Interview Requests, Partnerships and Media Kit
If you are interested in scheduling an interview with Rachel, please send the details in the form at the bottom of this page.
Bio
Rachel Dorneanu is a psychotherapist specializing in Anxiety, Assertiveness, HSPs, Perfectionism, and Premarital Counseling. She works with ages 16 and up and offers virtual therapy for Georgia residents. She helps perfectionists be kinder to themselves and others. She helps Highly Sensitive People (HSP) achieve balance and security in their lives. She helps premarital couples build a strong foundation for their marriage. She helps anxious people gain assertiveness skills and set boundaries for themselves and with others. She helps students feel confident in applying to grad school to become therapists. www.rachelbutlercounseling.com  (she/her) 
Last name pronounced: Door-neah-noo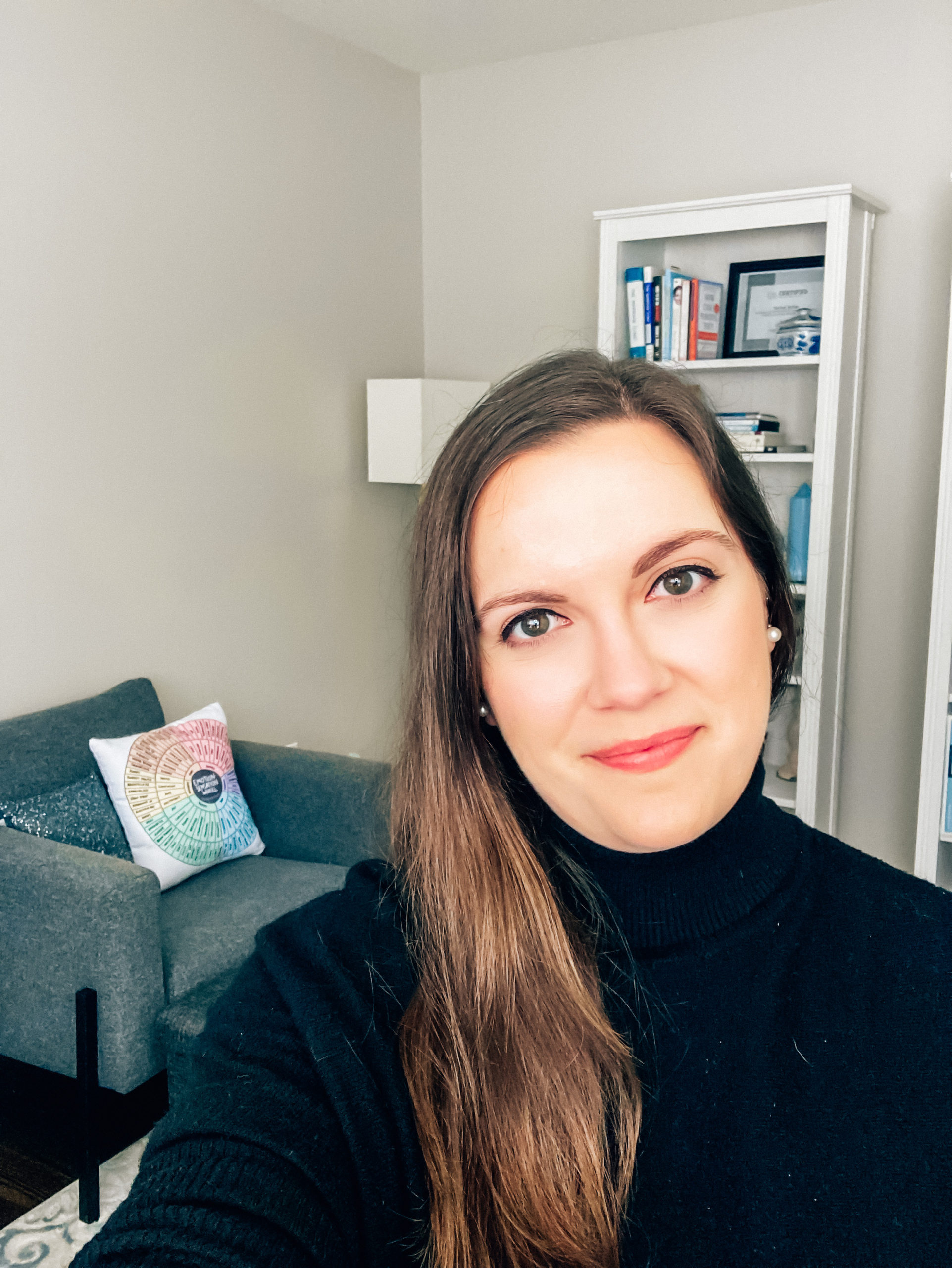 Common interview questions/topics
Topics: Anxiety, Assertiveness, HSP, Perfectionism, Premarital Counseling

How can someone benefit from premarital counseling?

How is perfectionism tied to being an HSP?

What is an HSP?

How is anxiety tied to perfectionism?

What free resources do you offer?

What kind of tools do you teach clients for individuals?

What kind of tools do you teach couple clients?

How can our audience connect with you?
Social Media Stats:
2.4k+ Monthly Pageviews

2.8k+ Instagram Followers

2.4k+ LinkedIn Followers

417+ Unique Pageviews

318+ Facebook Followers

6.0k Monthly Pinterest Views

90+ TikTok Followers
Past Interviews and Podcast Episodes
Interviews with:
Canvas Rebel

Voyage Atlanta Magazine

The Blog Societies

Shoutout Atlanta
Podcast Episodes with:
Mindful Psychology Podcast

We Are Wildly Successful Podcast

Dear Mark Podcast

Close the Chapter with Kristen Boice LMFT Podcast

Williams Educational Consultants

Boho Business Guide Podcast

Am I OK? Podcast with Lisa Lewis
Brand Ambassador and Partnerships
Looking for a therapist as a brand ambassador?
Is your brand or company interested in teaming up on a collaboration?
Are you looking for someone to display your facility or website as a referral source?
So many companies are now looking for partnerships and brand ambassadors to showcase their brand or product on social media. Maybe you're wary about the stories out there about brand ambassadors buying followers to up their credibility.
Or you're concerned about the way your reputation will be portrayed. I can guarantee you that I do not purchase followers or other gimmicks that would hurt your reputation.
First, I thoroughly research each brand or product.

Second, I try it for myself whether it's trying a product/service or touring a facility.

Then and only then will I recommend it to a client or my following audience.
If you are looking to become a referral source for my clients, please set up a networking call here.
Contact me for any partnership inquiries and let's work together. I'd love to talk with you!
Current Partnerships:
Anti Anxiety Notebook Partnership
 I've got a discount code for $5 off the

Anti Anxiety Notebook

.

Use code rbcounseling5

. 

This notebook keeps me sane with my busy schedule. The notebook has prompts to break down and describe the situation you're in, describe your thoughts, note the intensity, identify thought patterns, challenge your unhelpful thinking, and gives you room to do some extra journaling.

It prompts you every step of the way. Obviously, I'm loving it. Check it out for yourself here.