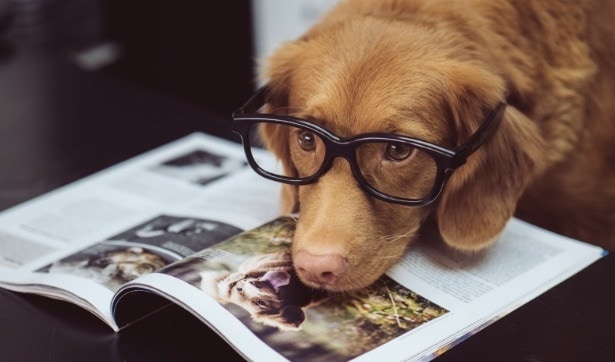 Best Dog Breeds for Work from Home
This post may contain affiliate links, which means we may receive a commission, at no extra cost to you, if you make a purchase through a link. Please see our full disclosure https://sagecounselingtherapyandwellness.com/disclosure-privacy-policy-terms-of-use/   for further information.
Ever since the global COVID-19 pandemic outbreak, many companies and businesses have migrated to a remote working format to minimize physical contact between employees. Consequently, the newfound flexibility in schedules and the long periods of lockdown for sure prompted a surge in the adoption of dogs and puppies.
These fluffy and lovable companions are great for emotional support when you're feeling lonely during isolation. Continue scrolling if you're curious about how to improve your mental health by adding a new member to your family!
Although all dog breeds are great in their own way and each of these furry creatures is deserving of wonderful homes, there are some breeds of dogs that are better suited for remote workers than others. So, if you're working from home and looking for a fluffy companion to keep you company, here are some breeds to consider!
According to the Small Business Prices study[1] conducted in the UK, researchers found that the following six traits in dogs were most valuable for remote employees:
Adaptability to live in small spaces: It may be difficult for apartment dwellers to own a dog because they must be considerate of their neighbors, the amount of exercise the dog needs, and whether the square footage of the apartment is big enough for their furry friend to roam around in

[2]. 

Tolerance for being alone: As much as you love your pet, sometimes you need your own space and time after a long day of staring at your laptop screen. It would be even more stressful if your puppy is constantly barking and making noises to get your attention or displaying separation anxiety that would annoy your neighbors when you're gone.
Trainability:

With the dedication you invest into your daily remote work, it would be ideal if your dog is easily trained to understand your commands and your schedule

.

Tendency to bark through your calls: The last thing you want is for your dog to bark non-stop while you're in an important work meeting. It is crucial for your ideal puppy to stay quiet when you do your job!
Energy levels: Yes, we all love puppy energy, but when you want to concentrate on a project before its upcoming deadline, you wouldn't want to deal with your dog zooming around your house to release his pent-up energy.
Exercise needs: While all dogs need to exercise and run around, there are some breeds that are more demanding of exercise than others. When you've had a long day sitting at your work desk, you probably won't want to spend another two hours catching up to your dog as he runs!
After taking the above into consideration and analyzing over 30 breeds of dogs, researchers have concluded that the following are the top five breeds for a dream "professional pup"!
Rank #5: Bulldog
Also known as the "English Bulldog" or the "British Bulldog", the bulldog is a breed that originated in England and is now one of the most popular dog breeds worldwide.
Known for their sociable, sweet, and easygoing nature, bulldogs are great companions if you're looking for a pup who is super adaptable to small spaces, rarely barks, and has a moderate energy level that promises a relaxed lifestyle. The bulldog for sure is a strong candidate for your dream pup![3]
Rank #4: French Bulldog
Aside from the similar names and the commonality of being adaptable to confined spaces, the Frenchie is actually quite different from the English bulldog. Their short yet muscular figure promises them a playful personality that carries onto their training sessions, making them incredibly capable of learning tricks and commands quickly!
Additionally, the French bulldog is also a "dog of few barks", meaning that they rarely make unnecessary noises unless they sense danger, making them excellent watchdogs for remote workers![4]
Rank #3: Havanese
Named after the people of the beautiful Cuban capital, Havana, the Havanese is a petite, silky, and adorable breed that has increased in popularity among American city dwellers. [5] Their cheerful personality, gorgeous fur, and big, brown, puppy eyes, for sure capture the heart of many dog lovers.
Like the previous two breeds, the Havanese is excellent with small spaces. However, because the Havanese are such loyal cuddle bugs, they can sometimes suffer from separation anxiety that places them lower on the tolerance for being alone scale. However, their active and playful nature makes it very easy to train and comprehend your commands. So, if your ideal pup is an affectionate, clingy, and smart little fluff, be sure to keep the Havanese in mind![6]
 Rank #2: Doberman Pinscher
In second place, we have the Doberman Pinscher! With their captivating sleek physique and loyal personality, the Dobie is a popular breed that's well-loved by many individuals and families.
While the Doberman Pinscher is different from the other pups on this list because of the fact that they're large dogs and require a certain amount of exercise, they are still a great option for remote workers. One reason is that they're very adaptive and are excellent guardians of your home. Their moderate barking tendency ensures that they will only bark when they sense a threat and will not hesitate to jump to your rescue.
Additionally, the Dobie is very intelligent and easily trainable, not to mention how great they are with new people and kids.[7] The Doberman Pinscher will be a perfect companion for those who love big dogs and adore an adventurous lifestyle!
 Rank #1: Shih Tzu
Drum Roll please… in first place is our "little lion", the Shih Tzu! Don't let their namesake deceive you, there is nothing fierce about this breed. The Shih Tzu is a perfect indoor house dog that has been spoiled since their ancestry. The Shih Tzus are dogs that were adored by Chinese royalties and were bred for their loyal companionship.
They may not be the best when it comes to learning tricks, hunting, or fetching, but they make the best work-from-home companions for their friendly nature and burst of affection for you [8]. If what you're looking for is a dog that will crawl onto your lap while working and will shower you with endless love, look no further, because the Shih Tzu is perfect for you!
There you have it! Those were the top five dog breeds for remote workers. While you may be itching to have a furry and affectionate companion at home with you after reading this blog, please take the time to conduct further research into your desired breed, and make sure that you will be able to provide your new friend a loving "fur-ever" home.
Avoid irresponsible breeding practices and backyard breeders, as well as invest more time into learning the special needs that are unique to each dog breed. While having a furry companion at home is certainly therapeutic, it's inevitable that the stress of working can be overwhelming. If you do ever find yourself feeling stressed out, needing a break, or someone to talk to, feel free to schedule an online therapy session with Rachel here. Finally, we hope that you will be able to bring in a new fluffy member to your family soon!
To discuss how therapy could help you during this season of your life, please contact me or schedule your free 15 minute consultation.
Resources Used:
[1] C. (2021, March 23). The Most Suitable Dog Breeds For Remote Working. SmallBusinessPrices.Co.Uk. https://smallbusinessprices.co.uk/remote-working-dogs/
[2] Taylor, C. (2020, August 24). The 11 Best Dogs for Apartment Dwellers. Daily Paws. https://www.dailypaws.com/living-with-pets/pet-compatibility/best-apartment-dogs
[3] Bulldog Dog Breed Information, Pictures, Characteristics & Facts –. (2020, July 29). DogTime. https://dogtime.com/dog-breeds/bulldog#/slide/1
[4] French Bulldog Dog Breed Information, Pictures, Characteristics & Facts –. (2022, June 24). DogTime. https://dogtime.com/dog-breeds/french-bulldog#/slide/1
[5] American Kennel Club. (2022). Havanese Dog Breed Information. https://www.akc.org/dog-breeds/havanese/
[6] Havanese Dog Breed Information, Pictures, Characteristics & Facts –. (2020, July 10). DogTime. https://dogtime.com/dog-breeds/havanese#/slide/1
[7] American Kennel Club. (2022a). Doberman Pinscher Dog Breed Information. https://www.akc.org/dog-breeds/doberman-pinscher/
[8] Shih Tzu Dog Breed Information, Pictures, Characteristics & Facts. (2021, September 24). DogTime. https://dogtime.com/dog-breeds/shih-tzu#/slide/1'
Want to read more? Here are a few of my related blog posts you may be interested in checking out!
Check out some of the items mentioned in the blog post above, along with a few extra goodies we think you'll love!