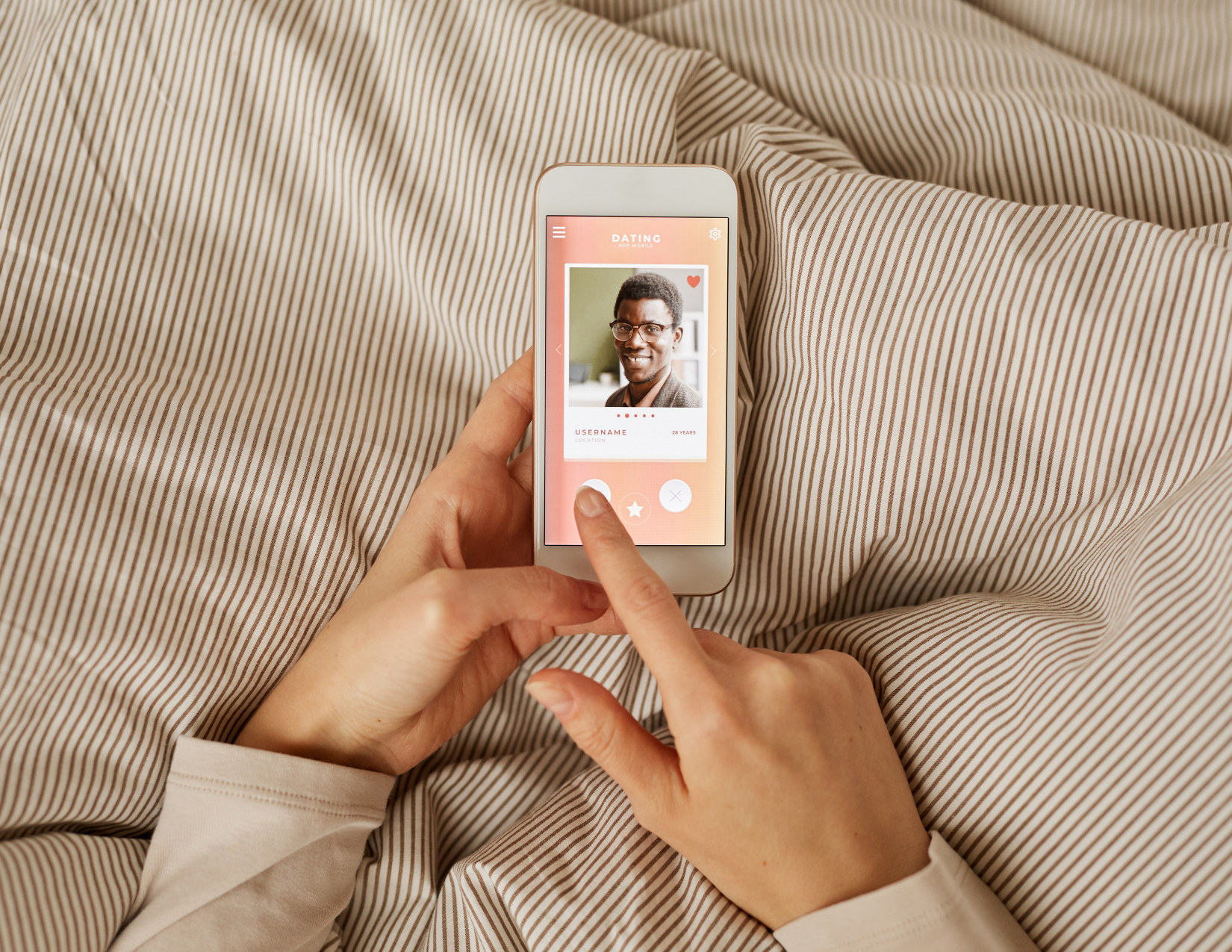 Online Dating 101: Is It a Waste of Time?
This post may contain affiliate links, which means we may receive a commission, at no extra cost to you, if you make a purchase through a link. Please see our full disclosure https://www.rachelbutlercounseling.com/disclosure-privacy-policy-terms-of-use/   for further information. 
With Valentine's Day being right around the corner, even the anti-online dating folks may be starting to ease up and reconsider venturing into the online dating world. Sure, it may have a bit of a negative connotation, or you may have heard a few first-date horror stories from your friends. But, aside from the unavoidable possibility of negativity, online dating has become a widely popular way to meet new people and potentially find your partner for life. This blog will delve into the ins and outs of online dating: how to online date, smart online dating practices, and a few mental health variables to consider when online dating. 
How to Navigate Online Dating
It may seem exciting to jump into online dating with no plan, but these tips on navigating dating apps will help you in the long run: 
Choose the right platform for you.

There are a handful of online dating apps and websites to choose from, so it's vital you pick the one that fits your needs and preferences. For example, if you're looking for something casual, Tinder may be the best fit for you. If you're looking to meet someone based more on personality similarities, consider Hinge. However, remember, no perfect app will magically help you meet the person of your dreams. You may find a special someone on an app you weren't expecting to like. However, if you find things aren't working for you, perhaps trying a new platform will do the trick. A quick change of app could mean finding your partner for life (fun fact: Rachel, the owner of Sage Counseling and Wellness, met her husband on Bumble!)
Create a profile that reflects you.

Your profile is the first thing your potential matches will see, so make sure it reflects who you are, both physically and personality-wise. Use photos that make you feel confident, and write a bio that reflects what you want people to know about you. Be honest about who you are and what you're looking for. 
Keep an open mind and be patient.

Although it'd be amazing to find the person of your dreams on the first day of joining a dating app, it's simply unrealistic. Take your time

getting to know

your matches, and keep an open mind when matching with people. I know from personal experience that sometimes the people you would never expect to get along with end up being the best matches!
Smart Online Dating Rules-of-Thumb
Meeting new people can be fun and exciting, but it's very important to keep your safety as the top priority. Here are a few general rules you should follow when online dating to ensure your safety: 
Be cautious about what personal information you share.

Never share important documents, login information, or credit card information on dating apps. That should be a given. But, some may forget that sharing where you live, your phone number, or what school you attend can be potentially dangerous as well. Get to know someone thoroughly before sharing this information. Remember, there's nothing wrong with keeping things vague–instead of phone numbers, you can exchange social media, or instead of dropping what street you're on, simply tell them which city/state you're from. 
Facetime or video call before meeting up in person.

This is a tip I tell all my friends about before they get ready to go on a first date. Even if you've been talking to someone for a little while, and even sending pictures back and forth, there is still a chance you may be getting

catfished

, or tricked into thinking you're talking to someone you're not through the use of fake photos. A way of nipping this possibility in the bud before finding out in person is to simply ask your date to video-call or facetime the night before. This will give you peace of mind that you are talking to the person you think you're talking to, as well as eliminate the chance of a dangerous, and uncomfortable, first-date situation. 
Do a quick background check on your potential date.

You don't have to deeply investigate them, but a simple google search may reveal some unfavorable information about them that they wouldn't have disclosed to you themselves. Or, maybe you'll even find out something wonderful about them, and like them even more!
Things to Consider when Online-Dating
Online dating can have an impact on your mental health. The constant swiping and pressure to present a "perfect" online persona can lead to feelings of anxiety and low self-esteem. It is important to try to not compare yourself to others on apps, and to take rejection lightly. Not getting as many matches as you expected, or getting "ghosted" by someone you were interested in, is just part of online dating. Do not equate your self-worth to your online dating experience! If online dating has taken a toll on your mental health, feel empowered to either take a break or delete apps altogether. 
Setting boundaries with yourself and others while online dating is an important part of the experience. This includes setting limits on the amount of time you spend on dating apps, who you talk to, and the types of conversations you are comfortable having. It is important to establish these boundaries from the start so that you can maintain control over your dating experience and avoid feeling anxious. If you find yourself uncomfortable with how someone is treating you on an app, set a clear boundary by either telling them, or removing them as a match—and, if they break community guidelines, report their account! 
Self-love is key to a healthy and successful online dating experience—and any dating experience, for that matter. If you don't love and respect yourself, it becomes difficult to attract a partner who will. Take time to focus on your own needs and desires before jumping into dating. This will help you approach the experience with a positive attitude and avoid feeling discouraged or disheartened. If you need some pointers, check out this self-love workbook!
Is Online Dating a Waste of Time?
The answer to this question is ultimately up to you and differs from person to person. For some, it can be an incredible experience that leads them to find the love of their life. For others, it may negatively impact mental health or not lead to what they were looking for. It all depends on who you are, your priorities, and how you go about online dating! In conclusion, online dating can be a worthwhile experience if approached with caution, open-mindedness, and smart practices. 
To discuss how therapy could help you during this season of your life, please contact me or schedule your free 15 minute consultation.
Want to read more? Here are a few of my related blog posts you may be interested in checking out!
Check out some of the items mentioned in the blog post above, along with a few extra goodies we think you'll love!