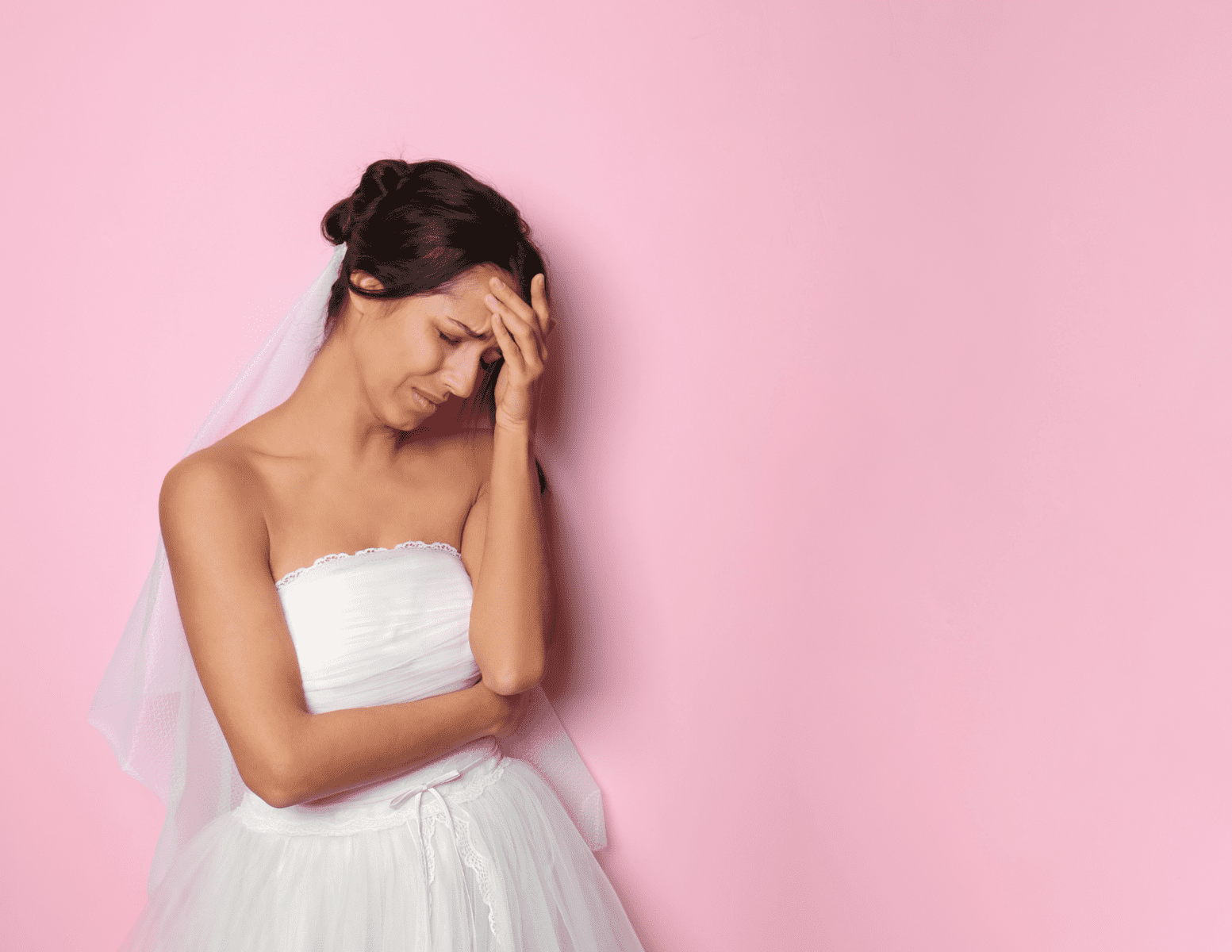 How to Cope with Post-Wedding Blues
This post may contain affiliate links, which means we may receive a commission, at no extra cost to you, if you make a purchase through a link. Please see our full disclosure https://www.rachelbutlercounseling.com/disclosure-privacy-policy-terms-of-use/   for further information. 
For most couples, planning a wedding is a time full of excitement, anticipation, and anxious energy. There is so much build-up towards the big ceremony, to a point where most people can't think of anything but their wedding during the months before. Like anything that brings anticipation and expectations, the days after your wedding ceremony can feel a bit empty. You're relieved that it went well, sure, but you can't help but feel an overall gloominess now that your big day is over and there's nothing to count down the days until. This feeling can be referred to as "post-wedding blues", and is experienced by many individuals after their wedding ceremony. 
Feeling the blues after your wedding is very normal. I'm sure you can think of other times when these same feelings occur. Think back to the times before and after a big vacation or occasion. During the time leading up to a big trip or a birthday celebration, you are full of giddiness, suspense, and hopefulness. Then, after the trip or celebration ends, you are left finally without these emotions, which makes us ask, "What now?"
Your post-wedding blues are quite honestly the same as any other post-excitement blues. Just because you are feeling a bit down doesn't mean your relationship isn't healthy or that your wedding wasn't a great experience. However, if you are finding yourself stuck in these feelings, here are a few tips that may help: 
1. Talk about it with your spouse. 
The number one piece of advice for those experiencing post-wedding blues, or any negative feelings, for that matter, is to talk to your spouse about it! After all, your spouse is now (officially!) your life partner, and should be there to support you through anything you are going through.
Who knows, maybe your partner is feeling the exact same way and you can lean on each other through this time. If not, it helps tremendously to have someone to talk to about your feelings and help you make sense of them. 
2. Consider taking a break before your honeymoon. 
Many couples decide to take a "honeymoon buffer", or a break between their wedding ceremony and honeymoon. Even though it is traditional to set off on a tropical honeymoon vacation right after your wedding, it may help to take it easy for at least a few days. This is for a couple of reasons.
First, you will be exhausted after your wedding. You deserve some chill time at home after several months of planning and a jam-packed wedding day! Second, a honeymoon buffer gives you time to look forward to your trip after your wedding. This delays post-wedding blues since technically your entire wedding plans haven't been completed yet. 
3. Take time to settle in or get involved with something else. 
As mentioned before, weddings are extremely tiring. The amount of mental energy it takes to plan a wedding, as well as the physical and social energy it takes to be on your feet the whole wedding day, dancing and chatting with loved ones, is a lot. Before you get down about not knowing what's next in your life, prioritize taking time to clear your head and relax.
However, if you feel as though you can't keep your mind off of these blues and are itching for something else to obsess over, getting back into a hobby or picking up a new one is always a good idea! This takes your mind away from post-wedding blues and towards something that brings you joy, as a positive distraction. 
4. Reflect on your wedding day. 
Try not to look back on your wedding day with sadness that it is over. The memories you have from your wedding will last a lifetime and should be cherished. If you're missing your wedding day, talking about your favorite parts with your spouse, family, and friends can help keep the day alive.
It can also be beneficial to journal about your wedding memories in order to re-live them. You can think back on your wedding day and journal about funny moments, favorite dances, the most touching parts of each other's vows, sentimental moments, and even make a scrapbook filled with wedding photos!
Make sure, however, that reminiscing isn't taking away from what's currently going on in your life. If you are so caught up in nostalgia about your wedding day, you'll miss all the little joys that occur at the moment. So, look back on your special day to honor it and be grateful, but also stay present! If you are having trouble with this, try this mindfulness journal! 
5. Practice gratitude. 
Going along the lines of being grateful for your wedding day, you should also practice gratitude for other aspects of your life! Research has shown that gratitude increases feelings of happiness and decreases feelings of anxiety and discontentment. This means showing gratitude for your partner, family, friends, job, home, etc. is a good idea to beat post-wedding blues.
You can also be grateful for small things, too. Gratitude has no criteria. Paying attention to the small joys in life, like your morning cup of coffee or a sunny day, will bring you more things to be grateful for than you ever would have imagined.
Better yet, if you are able to, tell the people you are grateful for how you feel! Spreading kindness and joy will uplift your mood even more. Incorporating gratitude into your daily routine is made easy with gratitude apps, such as "Three Good Things," which notifies you to list three good things that happen to you each day. 
Hopefully, some of these tips resonated with you, and in no time, you'll cope with post-wedding blues! Remember, what you are feeling is completely normal. Be kind and patient to yourself and your partner during this time.
To discuss how therapy could help you during this season of your life, please contact me or schedule your free 15 minute consultation.
Want to read more? Here are a few of my related blog posts you may be interested in checking out!
Check out some of the items mentioned in the blog post above, along with a few extra goodies we think you'll love!